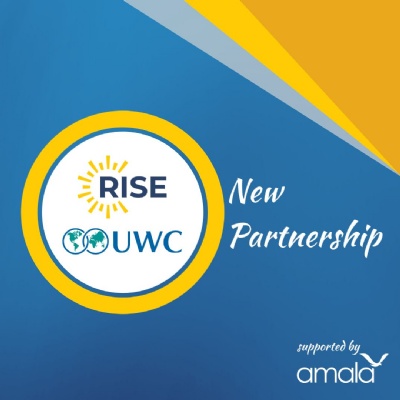 Great News from UWC International where the Collaboration with Rise will see launch of refugee camp education drive and scholarships to one of 18 international schools
Schmidt Futures, co-founded by former Google CEO Eric Schmidt and his wife Wendy Schmidt, along with the Rhodes Trust, today launched a new global talent program for 15-17-year-olds called Rise.
Rise and United World Colleges (UWC) will collaborate to launch an education programme at a refugee camp in Kenya and full scholarships to study at one of their 18 schools across the globe. Schmidt Futures has provided $1.6m in financial support for the effort.
The announcement comes at a time when education opportunities for refugees have been hit hard during the COVID-19 pandemic. The UN claimed in September that half of the world's refugee children are out of school, and the UN Higher Commissioner has said that refugees face a 'pandemic of poverty'.
The inequalities in education opportunities were already stark before the pandemic. Only a quarter of refugees (24%) are in secondary school education compared to 84% of the overall global population. That gap is even greater at tertiary education level (3% vs 37%).
The partnership is part of a wider launch announced today — the opening of applications for Rise, a global talent program to find outstanding young people who need opportunity, and support them for life as they use their talents to build a better world.
Rise is the anchor program of a broader $1 billion commitment to talent development from Eric and Wendy Schmidt.
In announcing the launch of Rise, Wendy Schmidt, Co-founder of Schmidt Futures, said: 
"Today's young people will face a rapidly changing world of challenges on a scale unprecedented in human history. Through this ambitious program, we hope to engage tomorrow's leaders across the globe, providing education and unique opportunities for them to identify problems, solutions, and ways they can work together, for a lifetime, in the service of humanity."
Eric Schmidt, Co-founder of Schmidt Futures, said:
"We are living in a time of both significant global challenges and unique global opportunities. With the launch of Rise, we hope to identify and empower the next generation of brilliant leaders around the world in a way that has never been done before. We'll harness the power of technology to find talented young people who would otherwise go undiscovered or unsupported, connect them in a global community, and give them the resources to use their talents for good throughout their lives." 
The news has been welcomed by Kenyan human rights activist Musimbi Kanyoro, former Head of the Global Fund for Women, who is now Chair of UWC International. Kanyoro said:
"Conflicts, wars and injustice deny millions of children their right to education and jeopardize their wider development efforts. When people are turned into "refugees" their dignity is compromised, their potential obscured and their possibilities locked up. By supporting their education, we reaffirm their humanity and unlock their power for self-reflection, learning and leading change. 
"Thank you, Rise, for partnering with UWC to give the young people in Kakuma Camp the 'education power' to realise their own dreams and shape their visions for peace, development and sustainability."
UWC will deliver a foundational education programme at the Kakuma refugee camp in Kenya for 60 refugee students over three years, starting in 2021. This foundation programme will be run by a collaborative effort between UWC and Amala, a social enterprise which provides education opportunities for refugees.
Additionally, 15 students (five per year from 2021) from refugee backgrounds will be eligible to receive all-inclusive scholarships to study the International Baccalaureate Diploma as a residential student at one of UWC's 18 schools. Locations include the UK, China, the USA, Costa Rica, Tanzania, and Germany.

Polly Akhurst, Co-founder of Amala, said:
"This new programme builds on the work we've been doing in the Kakuma camp over the past three years. Our work in Kakuma camp has taught us that education brings the rejuvenation of hope for young people who have been displaced. This programme will instil hope in a generation of young people in the Kakuma camp and inspire them to bring about positive change in their communities."
UWC has a strong history of providing education for refugee children. On average, around 5% of UWC's students in the IB Diploma years come from a refugee, displaced or persecuted background, and benefit from full scholarship provision.
Jens Waltermann, Executive Director, UWC International, said:
"Amidst all the uncertainties of 2020, the closing of borders and 'us versus them' thinking, we need to show that cooperation across borders and across all our differences is the only way to address the global challenges we face. We must build bridges through education."

For more information visit www.risefortheworld.org/apply.
This story was adapted from UWC.org See the full story here