Her Royal Highness Queen Sonja of Norway is the patron of UWC Red Cross Nordic. She opened the College formally on September 30th, 1995. She has supported the College from its earliest days and has consistently spoken positively about the UWCs in general and our College in particular. Since 1993, she has visited the College many times and has expressed a desire to meet every single student who graduates from the College.
The patrons of the UWC movement include:
Shelby M.C. Davis
Lu Pat Ng
Hon W. Galen Weston
Governance
The College is governed by a Board and a Council in accordance with the statutes of the Red Cross Nordic United World College Foundation.
UWC Red Cross Nordic Board:
Chair: Kristin Vinje
Kristin Vinje was elected to the Norwegian Parliament in 2013 and served on the Standing Committee on Education, Research, and Church Affairs. She has held positions including Vice Mayor for Education (City of Oslo) and Vice Mayor for Finance (City of Oslo). Her professional experience includes research within petrochemistry and catalysis, materials science and polymer chemistry in both academia and industry.
Kristin currently works as Vice Dean of the Department of Mathematics and Natural Sciences at the University of Oslo. Kristin has served as Chair of UWC Red Cross Nordic since June 2017.
Deputy Chair: Hans Lindemann (Denmark)
Sweden: Jan Bjørkman
Iceland: Sigridur Anna Thordardottir
Norwegian Red Cross: Liv Ronglan
UWC Norway: Ivar Lund-Mathiesen
Staff Rep: Kåre Dale
Student Rep: Arran Wass-Little
Deputies
Norway: Laila Bokhari
Astrid Søgnen
UWC Norway: Espen Stedje
Norwegian Red Cross: Dag Hovland
The Council is chaired by Pär Stenbäck from Finland, and is composed of representatives from:
the UWC National Committees of Denmark, Finland, Færoe Islands, Greenland, Iceland, Norway, Sweden, and Åland;
the Norwegian Red Cross;
Sogn og Fjordane County;
Fjaler Municipality;
Sogn og Fjordane Red Cross;
other elected members.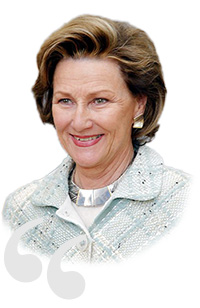 I am glad that
our work in
setting up a
Nordic UWC here
in Fjaler succeeded.
You can feel
the warmth once
you come to campus,
and the College
is everything
we hoped it would be
Queen Sonja of Norway
Patron