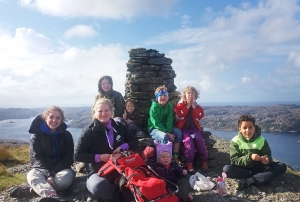 For most students the journey to UWC Red Cross Nordic is the first big step out to the world – and both in language and culture this represents a real change for them. To support the students, the College has a host family programme, a network of local families who have students visiting them. Six weekends during the school year are planned as host family weekends. Some of the students spend parts of their holidays or long weekends with their host families as well.
One aim of the programme is to give the students the opportunity to get to know local families and culture. Equally important is that local families will have an opportunity to get to know the College and our students.
The college has around 50 active host families at the moment. If you are interested in becoming a host family, please look at the attached brochure. For further information contact us at: hostfamilies@uwcrcn.no
Here, one of our current host families writes about the joys of the programme:
En Unik Mulighet – Bli Vertsfamilie

Jeg har vært vertsfamilie i ett år for to 2.klassinger; Gautham fra India og Maja fra Polen. Hvorfor vil jeg anbefale det samme til deg/dere?

Å få lov å åpne opp sitt hjem for disse flinke, positive og høflige studentene har vært en stor berikelse. Jeg har fått innblikk i det å være student ved UWC, både på godt og vondt. Jeg har fått lære og øve meg i å snakke engelsk. Jeg har overvunnet en skepsis til å ta fremmede inni huset. Lært nye kulturer og religioner å kjenne. Gjennom diskusjoner med opplyst ungdom har jeg måtte reflektere og begrunne, ofte revurdere, mine standpunkter i aktuelle saker. Jeg har fått flotte opplevelser gjennom det å lage mat sammen – indiske spesialiteter, piroger og kaker fra Polen.

Gautham og Maja på sin side fikk møte mine utflyttede barn som de nå selvsagt er venner med på Facebook. De har måttet smake på jølstraørret og lutefisk i godt vennelag. Følge med meg på kunstutstillinger og vært ute i naturen, både på fisketurer og på gårdsbesøk. Ofte slappet vi bare av sammen hjemme med lange frokoster, så en god film sammen eller de arbeidet med sine studier. Jeg stopper her, men mye mere kunne blitt fortalt.

Helt til slutt; frivillig arbeid utføres uten å få betalt, MEN du får betalt, ikke i form av penger, men med livslangt vennskap, ny kunnskap og takknemlighet.

Eva Marie Halvorsen
Classes here can be very demanding. But what separates UWC the most from other school systems is not the amount of homework or the pace of the class, but being in a school with people completely different from oneself. Talking to other students about their culture is very different from simply reading about it in a book at school at home. That is to me what makes UWC something special.