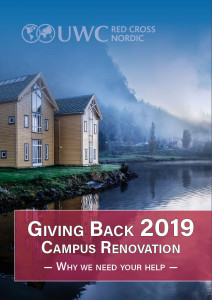 Our Campus Renovation Campaign 2019 is now under way.
We are turning to alumni and friends to seek support for our work in enabling all our students to live, learn and thrive. Alumni will have enjoyed their time on a campus that was in good condition.
We are continually working for improvements and, for the student houses, now is the time to make comprehensive refurbishments.
The Norwegian Education Department have generously given an extra 3 Million NOK, with the aim to make this an annual grant for the period we are doing this work. We need an equal amount from alumni and friends to carry out the operation. The campaign is running from September to October 2019.
So please help the coming generations of our students to benefit from the same good standards in their daily living.
We have already received questions and feedback which we have addressed in the Information Brochure here.