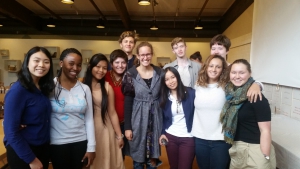 Forsikningsdagane (Research Days) is an event organised nationwide in Norway. This year Vestlandforsikning, the research institute of West Norway, organised an international climate change workshop for youth called 'Climate Voices in Sogn Folkmuseum' on Friday 29th September. RCN participated with eleven Geography and Environmental Systems and Society students and we met students from Vestland Universite's Climate Management Master's course. To our great surprise we also met a recent RCN alumna, Sara-Estelle Gößwein who wrote the theme song of the local Youth Peace Conference.
From the speakers of the workshop we learned about issues of climate change including interesting angles on immigration, indigenous peoples' rights, and how minorities and gender groups are more prone to the effects of climate change-induced natural catastrophes.
We also had the chance to visit the museum with a guided tour.
In the workshop, the students worked in mixed groups on different aspects of climate change, such as food, gender issues and awareness. The results of the workshops were shared with the audience in the plenary session and also will be exhibited in the new exhibition of the museum, 'Our Everyday Food'.