The RCN Safety Net: Developing Pastoral Care.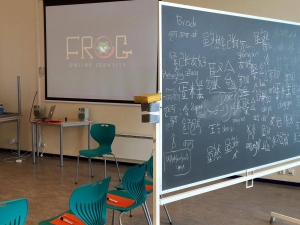 Two workshops were run on Saturday morning by special guest, Ingeborg Lykseth, as part of the College's commitment to developing pastoral care on campus. Ingeborg is a well-known entrepreneur in Norway, director, psychiatrist, certified coach, and speaker – and was invited by our teacher, Cristina Pinazo, to run two workshops (one for House Reps and some selected first years and the second for a group of residential staff).
The workshop was a short demo of the methodology FROG Online Identity developed by Ingeborg Lykseth, which trained our students and staff in identity, self-leadership and personal development. This method combines neuro-physiology science, story-telling and coaching – focusing on the participants' strengths to overcome challenges and achieve their maximum potential and success in life. A feedback session is planned this week with a view to explore how best to introduce this methodology to improving the RCN Safety Net.
Thank you, Ingeborg for driving across from Oslo to deliver these workshops.