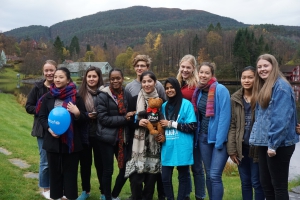 From Friday to Sunday our College joined in with the national campaign to support the work of UNICEF, through TV Aksjonen.
On Friday we had a special day focused on education and the work of UNICEF. Guest speakers Arne Olsen and Milad Dean set the tone in the auditorium with perspectives on how education is being affected when conflict escalates to crisis. Milad gave a personal story about his journey from Aleppo to Førde, whereas Arne focused on challenges and solutions when education comes in the form of aid. After this there were 15 parallel workshops led by our own student organisers, some of which were on education in Colombia, Mali, Syria, Pakistan and South Sudan, the receiver countries of this year's TV Aksjon.
On Saturday there was an auction in the Høegh Centre, where services were bought and sold – like a meal or a trip to the local mountains. We collected more than than 15.000 kroner for UNICEF. On Sunday our students joined in with the local collectors – going from door to door in the Hauland village and in Dale. In total 223 millon NOK was collected on the day – we are happy to have joined in with this "dugnad". Our county Sogn og Fjordane came in second place with an average sum of 49,96 NOK per person – as we submit the income from our auction it will pass 50,- .