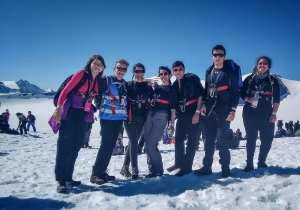 This year a group of students and teachers from RCN again participated in the annual Til Topps event, organized by The Norwegian Red Cross. It was the 10th anniversary of this amazing hike to Galdhøpiggen that is, with its 2,469 meters elevation, the highest mountain in Norway and with that the highest mountain in Scandinavia and Northern Europe. Til Topps is the year's most energetic multicultural integration event, supported by a phenomenal team of volunteers who ensured that the day ran smoothly and safely. Over 1500 people joined the event this year.
Six students and two staff members left the College early on the last day of term together with a group of refugees from the Fjaler Kommune to join the Sogn og Fjordane Red Cross delegation in Forde and, from there, Lom.
The evening before the hike, participants were treated to a culture evening with delicious food and exciting entertainment, including live performances by international bands.
The big day dawned, we packed up our rucksacks and were bussed to Juvasshytta, where we registered for the hike, received harnesses for the glacier crossing, and set off! The weather was spectacular, not even a single cloud in the blue Norwegian sky. The walk was challenging, even for hardy Norwegians, but as always, the thought of reaching the top and the encouraging words and smiles of other participants and the Red Cross organizers provided all the motivation we needed.
The view from the top was stunning and made up for all the efforts and the fatigue!
We are very grateful to the Sogn og Fjordane Red Cross for including us in their team, giving us the opportunity to have this extraordinary experience.