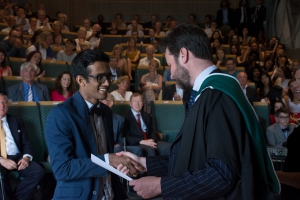 Graduation took place on Saturday 20th May at UWC Red Cross Nordic. It was a pleasure to welcome so many families, host families from our local community and other guests on Friday evening for dinner in the Høegh and then a cultural show – all coordinated by the first year students. The ceremony took place in a beautifully decorated auditorium at 14:00 on Saturday and consisted of speeches, a slideshow, a special video for the occasion (see here and below), musical performances and the formal graduation procession. The Rektor, Richard Lamont, opened the ceremony with a welcome address and introduced our Guest of Honour, Hans Von Sponeck. Hans has served as a UN Assistant Secretary-General and UN Humanitarian Coordinator for Iraq and has won several international prizes for his work towards peace. He is a staunch supporter of UWC and has worked tirelessly over the years to enable students from Iraq to attend our schools and colleges.
Liv Ronglan, the RCN Board Rep for the Norwegian Red Cross, gave a powerful address about the College's partnership with the Red Cross and the role our students can play in the future. Her address was followed by speeches from Gunhild Berge Stang (Mayor of Fjaler), from second year students (Tess Luttikhus from the Netherlands and Adrian Sidhu from the UK) and the farewell message was given by Tove Veierød (our outgoing Chair of the RCN Board).
Many of the parents of our second year students were unable to attend the ceremony – and therefore we have posted lots of images, recordings of speeches and musical performances on faceboook and a copy of the graduation ceremony programme so that our whole community can connect with the occasion.
For a copy of Larry's welcome address, please click here; for a copy of Hans' speech please click here; and for a copy of Liv's speech, click here.
Congratulations to all our graduating students!
Graduation 2017.What a day. This is the video the students made for showing during the Graduation Ceremony. Thank you to Nik and Maja. Video of the ceremony, and photographs of the day to follow ….

Gepostet von UWC Red Cross Nordic am Samstag, 20. Mai 2017
For an album of photographs, click here.
For a playlist of videos, click here.