Heile verda på ein skule – Internasjonale studieplassar i Sogn og Fjordane.
Vil du studere saman  med elevar frå heile verda i eit miljø prega av sterkt samfunnsengasjement og mange spanande aktiviteter?
Er du engasjert og ønskjer ei sterk internasjonal oppleving som óg gir deg ei anerkjent utdanning?
Vil du oppleve det mange tidlegare elever talar om som dei to mest fantastiske, krevjande og minneverdige åra i livet deira?
Vil du dra på eventyr og oppleve heile verda i Sogn og Fjordane?
Samarbeidet mellom UWC Røde Kors Nordisk og Sogn og Fjordane Fylkeskommune har opna opp for 2 fylkesdekkande plassar for Sogn og Fjordane. Neste opptak er august 2017.
Søknad er på VIGO, med søknadsfrist 1 mars.
Sjå her for meir generell informasjon om studiet på UWC Røde Kors Nordisk, eller kontakt Leonie Merts Koning e-post admissions@rcnuwc.no telefon 57 73 70 04
Silje Vallestad: Founder of bSafe. Young Global Leader of World Economic Forum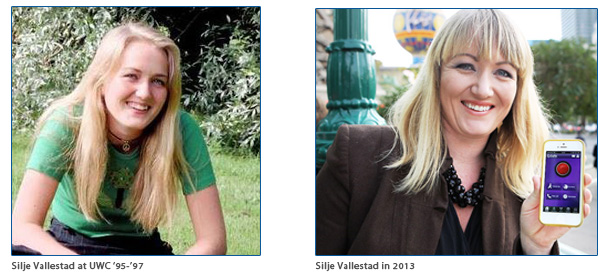 Mine to år ved UWC var uvurderlige. Fra å være Florøværing og norsk, så jeg på meg selv som en verdensborger. Med venner over hele kloden blir verden plutselig ikke så stor men ganske liten. Den erkjennelsen har gjort mye, og årene mine på skolen har definitivt påvirket valgene jeg tok senere. Det ga meg en ballast til å tørre å tenke stort. Tørre å gå internasjonalt i mine prosjekter og senere i business. Det ga meg en brann for å hver dag jobbe for å gjøre verden litt bedre – ikke bare for meg men for alle. UWC er en fantastisk mulighet. Det er to år som former deg som menneske og som fremtidig leder i en stadig mer internasjonal verden.