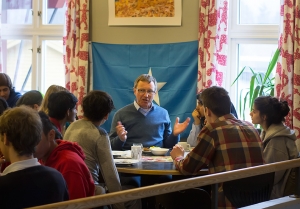 On Thursday 19th March, RCN's biennial Nordic Global Concerns Day was held on campus with workshops led by students on Nordic topics as diverse as mythology, monarchy, fishing, peacekeeping and refugees, socialism and knitting. Per Heggenes, the CEO of the IKEA Foundation, was invited as part of the day to deliver the inaugural Nelson Mandela lecture here at UWC Red  Cross Nordic – please click here for our Rektor's introduction to the presentation. Per gave a stimulating and  compelling insight into the holistic and long-term approach of the IKEA Foundation to creating meaningful opportunities and sustainable change in the world's poorest communities – and its emphasis on helping people to help themselves. The presentation effectively engaged with the three pillars – Environmental, Humanitarian and Nordic – of the College and, at the same time, gave a fascinating introduction to the global philanthropy and outreach of IKEA as a Nordic institution with Nordic values at the heart of its vision. The Q & A session provided a forum for discussion and reflection on challenges facing the IKEA Foundation as it seeks to fulfil its strategic aims and targets in a transparent and responsible way.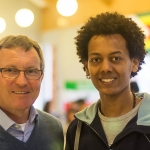 As part of Per's day on campus, he connected with a range of students including those from refugee backgrounds, and those on the College's Survivors of Conflict programme and members of the Student Council – and was hosted for lunch in the kantine and for an afternoon Saharawi tea ceremony in Snikkerbua.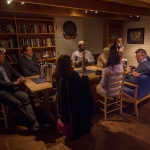 It was interesting to learn about the IKEA Foundation's work, notably its valued support towards education, tackling child labour and empowering women and girls. It was a privilege to welcome Per to our campus so that he could deliver the inaugural Nelson Mandela lecture. Per was appointed recently by UN Secretary-General, Ban Ki-moon, to the UN Commission on Life-Saving Commodities for Women and Children, with its mandate to increase access to life-saving medicines and health supplies for the world's most vulnerable people – we wish him well both for his work for the UN Commission and the projects he oversees for the IKEA Foundation.