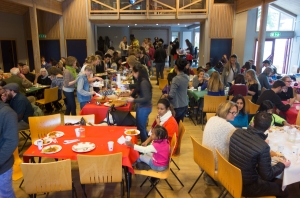 The Høegh was buzzing with activity on Saturday as members of the local and RCN communities brought dishes from their countries to share in the 2nd International 'Matbord'. The central table boasted delicious food from around the world – Eritrea, Romania, Bolivia, Norway, Sweden, Denmark, Morocco, Italy, Austria, India and elsewhere. Saharawi tea and Eritrean coffee were traditionally prepared while 2 student groups, DROP (Do Remember Other People) and LEAF (Living Environment and Future) provided smoothies and other drinks to quench our thirst. This year's entertainment included a Bollywood dance and Swedish folk music. Children enjoyed a cosy creative corner and a friendly, open atmosphere was contributed to by all who attended.
Support for our project 'Møteplass for Mangfold' has come from Sparbankstiftinga Sogn og Fjordane, Sogn og Fjordane County and UDI.
Click here for some photos from the day.
Click here to read about the other International Food festival day students and staff from the College participated in.