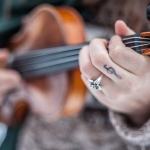 "I was always very interested in music, I don't know where it came from.  I was never forced into it. Before I even had an actual violin I would practice with two pens.  My parents never played instruments but growing up we didn't have a television, so there was always music in my house.  I guess you could say it was my first big interest.  What I love about music is that it's always been a constant in my life.  When I moved from Hungary to Sweden I got a proper violin teacher.  Even though I didn't speak any Swedish at the time the lessons worked somehow.  I continued playing and I got into this orchestra that went to Germany which was super cool. I think playing in an orchestra is really beautiful because it is a way of performing in a group, rather then alone and completely exposed."
(Photos by Khorshid Nesarizadeh)
For profiles and news of other students and alumni, click here.