Nelson Mandela devoted 67 years of his life to the service of humanity – by being a lawyer, while being in prison, and by being the first democratically elected president of a free South Africa. He devoted the last 18 years of his life to our UWC movement – being our Honorary President since 1995 – and he has inspired us ever since. By giving 67 minutes of our time – one minute for every year of Mandela's service – we made a small yet crucial gesture of solidarity with humanity.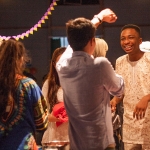 We are a movement based on values that should be cherished through devotion, passion, determination and action, and Mandela 67 was a unique chance to shed light on the incredible humanitarian projects we have at Red Cross Nordic and the wonderful teams behind it all. It is amazing to know that we all have the opportunity to make a difference for someone, and that our fellow students and friends work hard on an everyday basis to make projects like these a reality. That is, in my opinion, what makes our home magical.
Thank you to everyone who lend a hand and made the Mandela 67 event possible!
Written by Chantal Smeland (RCN 2013-15)