Marianne Andresen has been a longstanding supporter of UWC Red Cross Nordic (and UWC Norge and UWC internationally) – and has been a lionhearted champion of our College for over twenty years.
Generation after generation of RCN students have benefited from her thoughtful contributions and gentle suggestions to the development of the College. Marianne has contributed in very many ways – including donations towards classrooms, the Silent House, the grand piano, scholarships, capacity building in fundraising and (more recently) the Baking House, alongside raising awareness in Oslo of our work as educators towards peace and sustainability. She has also offered up her home to be a 'host mother' to students on the RCN winter programme.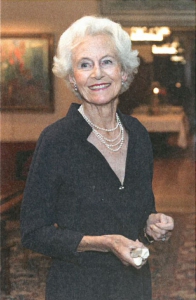 On the 1st November 2017, Orfeus Publishing launched 'Slottet – Familien – Kunsten' ('The Palace – The Family – The Art') – a biography of Marianne and study of her art, written by Nanna Segelcke. In tandem with the book launch, an exhibition of Marianne's art work, '70 Years as an Artist', ran in central Oslo from the 2nd until the 12th November. Over 320 guests attended on the opening night.
Marianne's wish at the outset of the project was that all proceeds from the sales of her work at the exhibition would be directed to supporting our work towards education for peace at UWC.
The exhibition, including the Shelby Davis match, raised 1.5 NOK for scholarships at RCN.
She is planning a second exhibition later this year in Stockholm to support Swedish National Committee students, in need of financial aid, to study at RCN.
On April 7th 2018, Marianne was featured in the Financial Times Weekend. Please click here to read the article and here, to see the online version with some of Marianne's pictures included.
We look forward to welcoming Marianne and some members of her family to the opening of the Baking House in early June 2018.
On behalf of all the students and staff of RCN, past and present, thank you Marianne for your continued support of this College.