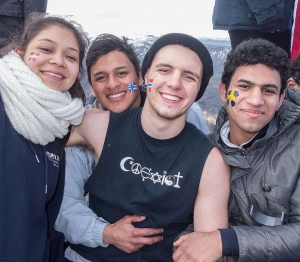 On May 1st, as part of international May Day celebrations, classes were suspended and first year students, a smattering of second years who made time away from their exam revision, and members of the teaching and outdoor staff hiked up to the top of Jarstadheia – the mountain behind the College. For many it was for the first time. There were some impressive efforts: special mention should be made to those who enabled Melvin Gomez, one of the students on our Survivors of Conflict Programme (SOC), to make it all the way – in particular to his roommate Dylan DeMarco. Another special mention to Mohammed Swadi, also a SOC student, who broke his leg during friluftsveke, but persevered and made it up and down the mountain on crutches!
For one and all who participated. it was a very special and memorable day! The pictures speak for themselves.
Many thanks to all who organised the day.