Losing my father whilst still a baby, living in poverty with a mentally ill teenage mother, life threw a curve at me at an early age. My grandmother could not afford two daily proper nutritious meals for us, and my uncle – at the age of 10 – had to quit school to earn money so that he could support four lives. This situation became a heavy burden for my extremely poor family – and I ended up in SOS Children's Villages.
I grew up with 10 SOS siblings in a safe and secure environment with a lot of parental care. As a youth I started integrating with the outside society and realized that being brought up in an orphanage you were discriminated against by individuals in society and at school. I also realized that orphans were labeled as lower class and an object of pity.
1999 was the start of the next great turn in my life, when I won a scholarship to study at the UWC Red Cross Nordic. Through the ambitious academic education and not the least all informal learning that I was exposed to on campus, the RCN gave me an opportunity to discover my potential and thrive. I now see how important it was that the College so much emphasized mutual respect in addition to all the exciting knowledge that it opened up. Terms like peace, solidarity and sustainability was something I got clear ideas about both in their abstract and concrete forms – something to aspire towards.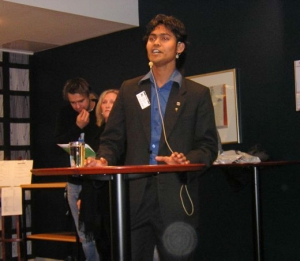 Life is never without hardship, but after UWC I managed to study in Switzerland, USA and Norway, where I again managed to experience a verity of cultures in a climate of mutual respect. I attained a dual major Bachelor Degree in Business Administration and Hospitality management (BBA) from the Swiss Hotel Management School & Northwood University of Michigan. In 2011, I graduated with an MSc in Hospitality Leadership from the University of Stavanger. During my studentship at different institutes I got involved with students welfare activities and quality education. At the university of Stavanger, I served the institute and its students as the President of the International Students' Union. Prior to joining UWC RCN I worked for SOS Children's Village Norway as a coordinator in the Relation Marketing dept. and within the hospitality industry in Norway, USA & Switzerland.
Using the knowledge and skills learned at UWC, I have later managed to support many of my least fortunate SOS siblings and other youths. I have just started as an Oslo-based Development & Alumni Relations Officer at RCN, and am happy to join the team to advance the kind of education I myself have benefited from. Supporting education and personal nurture is a long term investment that makes individuals become resources for society and enable us to live with dignity. I am excited about the next stage of life with my wife Sagorika Chowdhury in Oslo and look forward to engage with all supporters of our task – to make education a uniting force.
"Success is not final, failure is not fatal: it is the courage to continue that counts." Winston Churchill
Mostafizur (Mostak) Rahman