We drove into the mountains looking for snow to build a snow cave. Our little international band of students, headed by a South African (who really can ski) scanned the landscape excitedly. The five of us came from Belarus, Switzerland, Norway, Denmark and the US and have various experience with skiing and this diversity in nationality, skiing ability and personality, made for a wonderfully positive working – and playing – dynamic.
As soon as we arrived in the snow, many small challenges arose. Firstly, how do we carry all the sticks and branches we'd brought with us to build a shelter? And how do we use them to make a solid home for the next two days? The less-than-ideal conditions called for us to create unconventional solutions given our limited resources. We found that the ingenuity that came forth, especially in our roof and the overall design for our snow cave-ish structure, to be a big part of the learning experience. We even had time to make the most epic snow slide in Norway.
Building the shelter took all of our hands, but eventually we had a new temporary home. It was a great feeling! Then came the problem of finding drinkable water. Alistair enjoyed pointing out the irony of this situation, as we were surrounded by frozen water. Once even Nik was full of noodles and soup, we fell asleep awaiting the next day of skiing.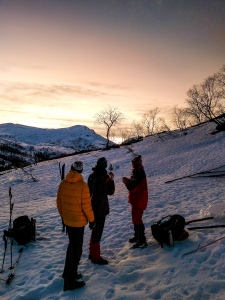 It was a long day of skiing. The wind stung our faces and Nikita gave us perspective on the beautiful, harsh landscape, remarking that the wind was like smoke flying through the valley. The icy conditions made for plenty of humbling falls. Although Alistair's ski decided to break, we still made the best of the day exploring and jumping around the snow cave.
Certainly something we will remember from this trip are Alistair's long tales of Norwegian epics in the outdoors, as well as personal stories of adventure. We would like to make it clear that the imperfect circumstances we experienced by no means made this PBL any less meaningful or enjoyable! It was a trip which cleared our minds, giving us greater perspective on the daily hustle and bustle. In an entirely different context to the usual classroom: we learnt by doing, about teamwork, practical skills and the philosophies of friluftsliv. All in all we are thankful for the opportunity to connect with nature through friluftsliv!
(Report written by Nik Schelling and Faith Isham '15 – '17)