On Monday, Pellegrino Riccardi was invited to the College on the recommendation of Hilde Genberg (RCN's Survivors of Conflict Programme Coordinator and formerly the College coordinator of the Fredskorps Partnership) – Hilde had previously heard Pellegrino speak at the annual FK summer camp on inter-cultural understanding.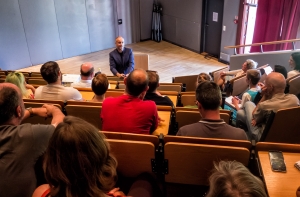 We put together a programme for Pellegrino so that he could run a seminar for our second years (with the intention of helping them to prepare for and reflect on the arrival of the incoming first years) and so that he could run a training session for our Education Staff (with an open invitation tour Support Staff) on intercultural communication and understanding given our deliberately diverse student and staff bodies. The training was insightful, humorous and thought-provoking – and we certainly hope to invite Pellegrino back to our campus for further training.
The training for staff also complemented the training delivered in our Staff Introduction Week on the three pillars (Nordic, Humanitarian and Environmental), communication skills and a (re)introduction to inter-cultural understanding.
For more information on Pellegrino's work, click here for his website and here for a link to Ted Talk he delivered in Bergen.