If you happened to be driving to our campus last Sunday afternoon, you might have found yourself being a little confused – rightly so. The scene that car-drivers coming in our direction encountered was indeed very unusual. Around forty young people dressed in bright colours, faces painted with rainbows were walking on the hilly road to Flekke, holding signs with slogans like "Love is not a crime", "Pride not prejudice" and "Love knows no gender". Music blasting in the background, we pass by the farms on the side of the road, where sheep signal a nod of solidarity. Not something you would expect in rural Norway, right?
This year, the annual Pride March organised by UWCRCN's "Gender and Sexuality Group" (GAS), took place on Sunday, May 6th. Despite the bad weather and upcoming exams, the turn out was record-breaking in the history of the event. Alongside students and staff-members, patients from the neighbouring Haugland Rehabilitation Centre and even guests from our neighboring town of Dale marched in solidarity for the rights of the LGBTQ+ community.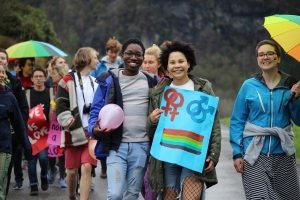 In Flekke, the hungry participants arrived to rainbow-sprinkle cookies and two pride-themed artistic performances by RCN students.
The amount of positive responses and the success of the whole event left our Gender and Sexuality group feeling extremely encouraged and inspired. With the aim of making GAS as inclusive as possible, the group will continue reaching out to a broader community beyond RCN. In the future, GAS also hopes to strengthen its collaboration with other UWCs. A starting point for this is the newly founded messenger group which enables direct communication between the leaders of LGBTQ+ groups at all 17 UWC schools and Colleges. An LGBTQ+ themed event which will be held across all UWCs next year is already in the planning stage!
Apart from Pride, this year there has been great cause for celebration for GAS. Our college passed a new gender diversity policy which ensures the protection of the rights of trans* members of the community and we successfully celebrated both Sexuality and Gender Week. GAS is almost entirely student-run, but our work is greatly supported and facilitated by both our supervising teacher Lisa Jokivirta and our Education Management Team.
Diversity comes in all shapes and forms. As part of the UWC mission of celebrating diversity, we invite you to join the dialogue: how can we best support LGBTQ+ students, teachers and allies at UWCs around the world? We thank you all for your interest, solidarity and support!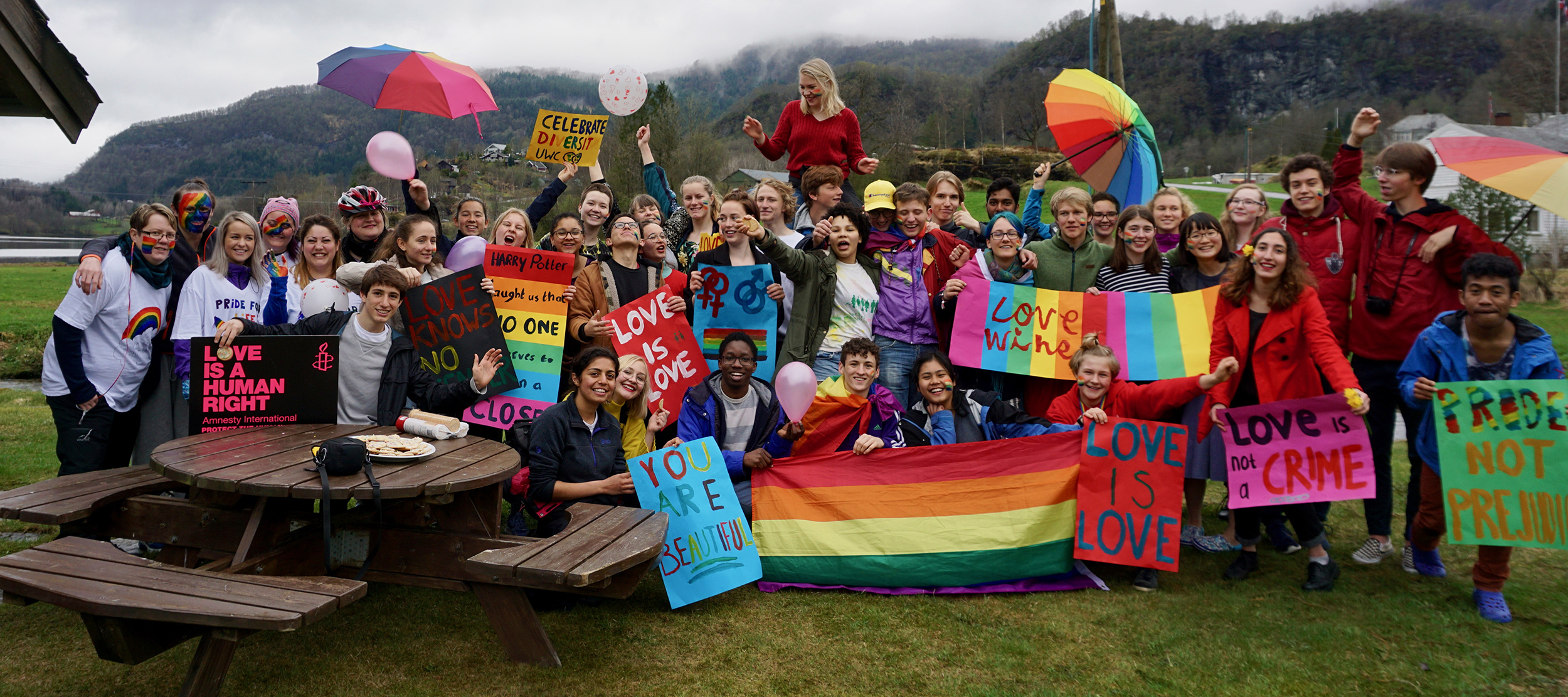 Written by UWCRCN GAS Leaders Annika (Germany) and Jack (UK)
Photos by Hana Le Cam and Otto Garli