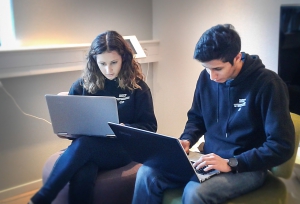 A team of five RCN students – Ilaria (Italy), Jennifer (Hong Kong), Mirandas (China), Sara (Italy), and Yash (UAE) – participated in the county round of the ENOVA competition. The competition, held annually, is for raising awareness about sustainable technologies and renewable energy use. Teams from local high schools compete to come up with an innovative and feasible solution for a certain task. The jury marks the teams on their knowledge in the topic, their level of innovation, their entrepreneurial approach and the quality of the presentation.
Our students had 3.5 hours for the task and came up with a solution for a green ferry system and created a website (available here) about their idea that covers all aspects of a new ferry system, from innovative redesign of boats, through using hydrogen fuels cells to the hydrogen production on docks that made the idea unique and feasible.
The RCN team came the second in the competition. Congratulations to the team for their amazing performance and for the wonderful solution for the task.
The team took the opportunity of being in Forde and visited the Protolab Vest, a small but well-equipped prototype lab built for youth to explore technology and their creativity.