Our Diploma Coordinator and English/Theatre teacher, Pete Wilson recently spent a week at LAMS school in Faisalabad. The school was established to provide free education for the children of factory workers in Sultan Town. The factories produce rugs and other cotton goods for export, including to Norway. Currently almost 700 children from 3 to 16 years of age are accommodated by the school. There are 29 teachers and staff at the school (see below). From kindergarten upwards, much of the teaching is bilingual in Urdu and English.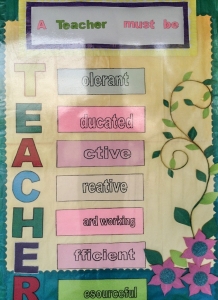 Pete visited the school by invitation from Laila Bokhari, a deputy member of RCN's Board and State Secretary in the Norwegian Ministry of Foreign Affairs, whose father was one of the founders of the school in 1996. The school is funded via profits from the factory, donations from private individuals and sponsorship from the likes of the Rotary Club.
Boys must leave the school aged 12 and enroll in other local schools, as the school's philosophy is to concentrate on girls' education at the secondary level. Long-held beliefs and cultural traditions have meant that until very recent times, girls' education in Sultan Town has been a low priority for families. Pete was also able to visit local families to witness at first hand the difference in local living standards that having educated daughters can bring about. Pete's hosts also organized a visit to COMSAT University, Lahore as well as to Badshahi Mosque and Lahore Fort.
Pete intends to pay a return visit next year to work with the LAMS teachers on staff and curriculum development and to explore further possible links between our two schools. The students at the school have high expectations of their teachers – as the picture shows!