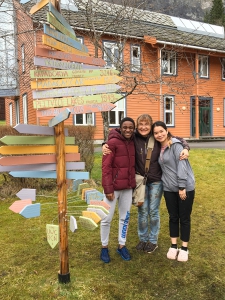 The College's signpost – first planted on the grass between the Admin and Andresen Buildings in 2003 with arrows pointing to cities across the world – has over the years taken on a real significance at RCN as both a visual reminder to us all of the world beyond and also destinations our graduates head towards. Photographed with snow on it and caught in summer sunshine, we use it again and again to illuminate what the College stands for; it sits proudly in both our Strategy 2020 and our formal agreement with the Norwegian Red Cross.
Over the years, the weather has taken its toll on it.
This spring – Jelena (a teacher from the founding generation), Alf Magne (Head of Maintenance) and a team of students – Freddy (Cameroon) and MJ (Thailand) – set about restoring and redesigning it with some help from Nynke and Olivier (The Netherlands) and the Bio Lab team.
New locations of outstanding natural beauty and significance were selected across the home planet Earth for our directional arrows. In addition, the team added a lower set of arrows to our UWC sister schools and colleges across the world and the distance in kms from the signpost.
It was reinstalled and unveiled on Friday 27th April by the design team, with an introduction by Jelena, in front of first year students, interested staff members, members of the RCN Council and other guests.
Thank you to all those who, over the years have contributed to the original design and repair work – with special mention to our former Head of Maintenance, Vidar Jensen.
It was a very special occasion and we are delighted to introduce you to our new signpost.