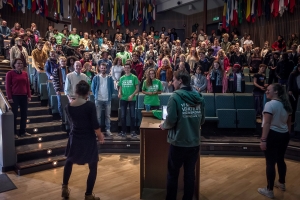 Every term RCN students organize a special day on global topics – they are called Global Concerns Day. This term we decided to talk about the role and plight of the world's rainforests, not just because it is an actual problem but because this year's Norwegian TV Aksjonen (TV Action) – a day of enormous national cooperation – is being dedicated to this issue. TV Aksjonen is organized by the National TV, NRK, that broadcast programmes about this topic for months before the action day of 18th October. Last year TV Aksjonen collected more than 250 million NOK which was used to help supply healthy drinking water in several countries, not to mention its importance in raising awareness. This time the donations are going to be given to Regnskogfondet (Rainforest Foundation). All donations will go directly towards the protection and development of rainforest areas in Peru, Papua New Guinea, Democratic Republic of Congo and Brazil.
Our GC day was part of the county`s official TV Aksjon programme. Students explored the topic of rainforests in many different ways – in workshops looking at the issues from environmental, humanitarian, cultural and political standpoints. At the end of the day we had two guest lecturers: Johan Haffner Knagenhjelm, a former student of our College, from the Regnskogfondet,  and Pål Gran Kjelland from the Norwegian Glacier Museum. They gave lectures about climate change and the problems and possible solutions for the loss of rainforest.
After the lectures Kristin Sandal – another guest – and Johan Haffner Knagenhjelm met students from Brazil, Peru and Congo. In this fruitful discussion students shared their personal stories about rainforests and received advice from the the Regnskogfondet. The event was followed by a special auction on Saturday where items like special kayak trip, Italian dinner, real English tea for two or professional profile pictures were auctioned – and we are pleased to say that more than 8,000 NOK was raised! On Sunday about 20 of our students volunteered to collect money locally for the national TV Aksjonen campaign.
We are sure that these days have helped to raise awareness among our students and have given them useful information about the situation of the rainforests. We hope we can contribute to the important work of the Regnskogfondet.
Many thanks to all those who worked so hard to make the Global Concerns Day such a success.