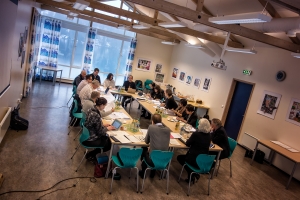 It is very exciting that UWC Red Cross Nordic is this week hosting its own Board for a quarterly meeting as well as the UWC International Board and other guests (including representatives of other schools and colleges who are seeking approval for UWC membership – and the respective Task Forces charged with the role of evaluating these applications). Part of the challenge was to come and visit our College in mid-winter and we are delighted to receive visitors here on campus from all across the world – from Mexico to Hong Kong, from Brazil to India – representing different key stakeholders in the UWC movement – from the International Office to national committees, from sister colleges and schools to alumni and other supporters of UWC. We have designed the programme surrounding this International Board Meeting so that it provides our guests with opportunities – through presentations by students, lesson observations, guided tours and other events and adventures – to connect with the students and staff of our College and the spirit of the place.
The opening session took place in the auditorium – with an opening address by Larry, a slideshow of the academic year set to music, and an introduction to the members of the International Board (followed by a Q & A session).
We here at RCN are hugely appreciative of the continued support of our College from members of the International Board and our other guests on campus.
Click here for an album of photographs, and here, for Larry's welcoming address.