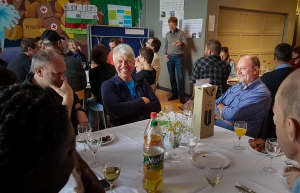 This summer sees the retirement of Arne Ophaug (Head of Services) and Vidar Jensen (Head of Maintenance) at UWC Red Cross Nordic. Both have served the College for 22 years since it was opened back in 1995 – with Vidar in fact working at Haugland for the past 30 years, from the times before the College and the Rehabilitation Centre were opened. Both have made an extraordinary contribution to the development of our College – and, as recognition of their unstinting commitment, we asked them to represent the College at a gala event in September 2016 in the gardens of the Royal Palace in Oslo with a special invitation from our patron, HM Queen Sonja.
In the last College Meeting of this term, the students and staff gave them both a standing ovation as an expression of thanks for all that they have given and on Friday a special barbecue was put on in their honour.
Vidar has kindly offered to be the project manager for the construction of the new baking house, next to the Silent House – and we look forward to welcoming both him and Arne back to the campus in the years to come.