Preparing for FK Youth exchange with UWC Red Cross Nordic
Eight Norwegians and two Thai volunteers have spent two and a half weeks at UWC Red Cross Nordic preparing for their posting abroad with FK Youth exchange (Fredskorpset). Two Saharawi volunteers are delayed because they are waiting for their visas, but they will hopefully arrive this week.
The FK volunteers experience another culture through teaching languages and assisting staff at UWC Red Cross Nordic and then at the Mercy Centre in Thailand during their posting abroad. Furthermore they learn about humanitarian values and issues and every-day life for Saharawi refugees, people in the slum of Bangkok and Norwegian society. This is how Solveig, one of the Norwegian volunteers, sums up the FK preparation course from 20th July-6th August:
Training week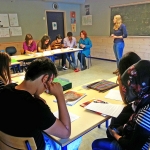 During the first week it was only the other FK volunteers, Summer Course activity volunteers and a couple of interns at the College. We were taught how to teach and also planned out the Summer Course for the students. We learned how to approach students, how to handle different situations in the classroom, lots of learning techniques, tips about classroom communication, and how to plan classes. This week was mainly led by RCN teacher Peter Wilson and former UWC RCN student Madeleine Benishek. There were also some classes giving us information about the project, FK and HDF Mercy Centre, led by FK Project Coordinator Hilde Genberg.
Pernille, who volunteered for HDF Mercy Centre last January to May, came to RCN to tell us about her experiences to help prepare us for our time there. She told us how our everyday life would be like, some of the 'dos' and 'don'ts' in Thailand, and about the Mercy Centre, its work and its surroundings. This was the first time we reallygot to know what would be expected of us and what we could expect during our stay at the Mercy Centre. So yes, Pernille's visit was very informative and helpful, and I'm positive this is when we all realised how near our departure to Thailand actually is! Thai classes were also held throughout the whole summer course by the two Thai FK volunteers at RCN; Pui and Aoey. Sadly, I cannot say I've become fluent in Thai, but we all learned some phrases, and important key words for everyday communication.
In the afternoon we had lots of spare time. Some of it was obviously spent looking over Thai notes, but we also had time for more exciting activities such as kayaking, swimming, tanning in the hot summer sun, hiking, playing cards, reading, working out in the gym nearby, watching movies and bicycling to the closest grocery store. All this and the fact that the weather was perfectly sunny and warm made it totally OK that my summer break had been shortened by three weeks due to the Summer Course.
Second week: The students arrived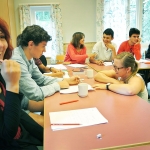 After a calm and relaxing weekend the students arrived, and we were about to have our first classes on Monday morning. The teaching was quite nerve-racking in the beginning, but as the week passed we became more and more confident about the teaching. Each class was 40 minutes long and we had two classes a day. In the beginning we taught classes in pairs, but as we became more confident we taught classes alone as well.
The aim of the Summer Course is to give the students a gentle introduction to RCN, the IB programme and Norway, while encouraging the students to speak, write and read English in order to improve their English skills. Teaching these students was as wonderful as can be. They were extremely motivated to improve their English, and every single class made me aware of my strengths and weaknesses as a teacher, as did the feedback Pete and Madeleine gave me. The teaching itself definitely improved me the most as a teacher.
The rest of the week consisted of planning and preparing classes, attending more Thai classes, correcting homework we had given the students and tutoring and helping some of the students with their homework. This week was definitely more hectic than the previous one. For instance, some days I wasn't done before 11 o'clock at night! But all in all, it was very joyful due to all the interesting and great people I was surrounded by.
Being at RCN and experiencing the summer course makes me regret I never applied to UWC as a student myself. However, I am extremely happy I got to experience the school as a teacher and FK volunteer. This school deserves a wider reputation and more publicity. It was also great to finally meet all the other FK volunteers who are also going to Thailand, and meeting the others volunteers and interns made the weeks fly by with lots of laughter and fun. We were all such a good group of friends by the end!
Most importantly though, the FK Preparation course prepared me very well for my journey to Thailand. Now I know what the Mercy Centre actually is, what I will be doing there, how to do it, what my everyday life will look like and who I will be travelling with. It's not until now that I can say how excited I am, because it's not until now I know what I'm heading towards!
ps: Want to see how the exchange works out in the year to come? Follow Solveig and the other FK Youth participants on FK Youth's blog that will soon be updated.