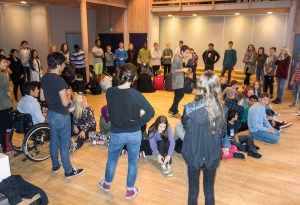 On Wednesday we were visited by 48 ninth-grade students from three different schools in Svelgen and Bremanger, a district two hours north of the College. The visit came about through our cooperation with the Sogn og Fjordane Red Cross, who organize events and activities for people to highlight the effects of violence and teach how to develop tools to work locally against violence.
A day of activities was organised for our visitors: there were talks and presentations in the morning about our cooperative projects with Fredskorpset and several of our students, some from our Survivors of Conflict programme, others from areas of conflict, shared their stories with our visitors in a presentation in the Høegh Centre. Later in the day there was yoga, ice-breaker games and Theatre activities led by students. 
Our thanks go to the Red Cross, to our visitors who made the journey to the College, and to our students and staff  who put together such a varied and interesting programme.  As a future development from this visit, we are hoping – in co-operation with Sogn og Fjordane Red Cross – to develop a programme that can be offered to all schools in our region.