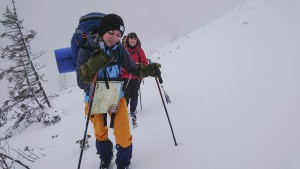 The Outdoor Leaders in training went on their 5th trip over the weekend of 30th March. It was spring skiing: an overnight trip with the aim to ski in steeper terrain with more complex route-finding, needing an awareness of avalanche danger. Recent days of high winds had warned us that avalanche danger might be high and, coupled with poor visibility, we were extra careful with the navigation as we climbed up behind Storehesten.
On the north side of the mountain the snow was still deep, and we found a good place for our tents, in good position to ascend the next day. The evening saw increasing winds and quite a lot of new snow. We definitely did not have spring conditions in the hills yet! The morning was predicted to bring decreasing wind and clearing skies so, after breakfast, we set out towards the top and after a while it did indeed clear up. Unfortunately the wind had scoured the hillside of any new snow leaving only the old icy sheet of snow. So, as a group, we decided to descend to camp and pack up for the return back to the school.
Although we were only a small group,we still had a good time and got to feel how it was to be exposed to the poor weather, and experience how the wind and the poor visibility impacted what we could do. It was interesting to see how the landscape changed from being dark and intimidating to becoming light and inviting depending on the visibility. Navigation without visible landmarks or a trail to follow is demanding. We all got valuable practice and experiences even though we would have preferred still and sunny days.
See the video here.