Fifteen of our students and educators have started a journey of change, with the help of Karen O`Brien and her team at cCHANGE. To start of it all, Karen gave our yearly Environmental Thor Heyerdahl Lecture about climate change: "You matter more than you think!"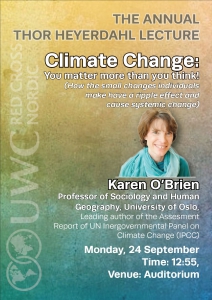 The Flekke GLOCAL CHALLENGE is an effective and fun way aimed at creating transformation towards sustainability in a 30-day programme. The participants are encouraged to experiment with one sustainability-related change for 30-days. During that time, they receive information and insights into change. They reflect on and share their experience, with encouragement to question their own habits, beliefs and assumptions with questions like "why?", "how?", "what if?" These shared stories will be examples of how you can create change. The focus is GLOCAL? Small personal, local actions can contribute to global impacts.
Please follow us here !